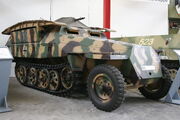 The
Sonderkraftfahrzeug 251
, or
SdKfz 251
, was an armoured vehicle used by Germany during World War II. The term
halftrack
comes from the short,
caterpillar tracks
on the back used to propel the vehicle. The front wheels, used to steer the vehicle, are rubber - similar to those found on the typcial truck or
automobil
. The SdKfz 251 was used as most often as a
personnel carrier
with a mounted
MG34
or
MG 42
.
Although Germany produced many similar halftracks, the only one encountered in Brothers in Arms is the SdKfz 251. The player never gets to 'use' the SdKfz 251 like they can the M4 sherman tank or the M5 stuart tank, but the player does encounter situations in the singleplayer where the enemy utilizes the SdKfz 251 as a moble machinegun platform, the gunner is difficult to kill due to the firepower of the MG 42 and the good protection offered by the halftrack.