Unidentified Paratrooper
Edit
The Unidentified Paratrooper is the main protgonist and main playable character in Brothers in Arms: DS. During the Normandy campaign, almost all of his squad is killed. He then has to join up with other parts of his division to help them with their missions. He probably had a new squad by time the Belgium campaign began. Even though he is called a private, his stripes hint that he is a corporal.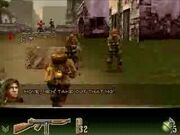 Brothers in Arms DS
Edit
Normandy
Edit
When the Paratrooper landed in Normandy, his parachute got stuck on a tree. About to be killed, a squad saved him and assisted him in finding his squad. During the mission, all of the squad was killed, leaving the Paratrooper to find his squad on his own. After regrouping with his squad, he went on a mission to attack a heavily fortified German town. During the mission, only he and a few others members of his squad survive. From then on, he was assigned to assist other companies of the 101st in succeeding with their missions. Some of these missions involved destroying Flak 88s, infiltrating a German base to destroy V2 Rockets, and clearing the Rhine River's bridge of Axis forces to make a path way into Germany.
At the start of the Belgium campaign, the Paratrooper and his squad were trying to clear a town full of German forces. The Paratrooper uses a Sherman tank to clear the town and to destroy the Panzers in the area. After the mission, mortars fired at his squad's camp. The camp was destroyed and the mortars killed many. After he escaped the camp alive, he set out on a mission to destroy the Flak 88s that destroyed the camp. He successfully completed the mission by destroying the Flak 88s and killing the crews. On his final mission, he was ordered to attack and gain control of a heavily fortified German hill. During the mission, he destroyed bunkers and climbed up hills to clear Germans from the area. After clearing the final bunker, the American flag was raised and the mission was accomplished.
Miscellaneous
Edit
He has the most appearances out of any character in the game.
He is the main protagonist of Brothers in Arms: DS.